Food was probably the first item to be traded by man. As we moved from a case of need to that of want, producing food converted into a profession from a requirement. For thousands of years, food and related products and services have been in constant demand. Although we have come a long way from the barter system of old to modern currencies, credit cards and other digital ordering platforms, we have created an entire ecosystem that helps us get food when we want, where we want, on-demand. 
Is online food ordering and delivering an actual business?
Historically, food ordering systems were limited to customers making a call to the restaurant, and the restaurant sending the order over. With the advent of modern technology and the internet, restaurants started to offer their menu on their websites where people could go online and order food.
What started as the first online ordering system by Pizza Hut in 1994 has grown into a multi-billion-dollar industry and rakes in over US$100 billion each year! As the internet and devices that could leverage the power of the internet evolved, so did food ordering systems.
With the advent of the iPhone in 2007, the internet witnessed an explosion of devices, apps, and services like never before. This also gave rise to the world of the apps that have taken the internet by storm and the most affected industry by it is the food industry. 
How many people order online every day and why?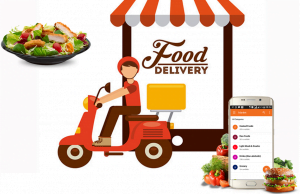 Millions of people order food online today due to two main reasons: convenience and variety. Whether it is a quick bite for lunch, a small snack in the evening or for a get-together, we just cannot imagine our lives today without a food ordering system in place. Revenues in the worldwide food ordering industry are slated to reach a staggering US$122,739m by 2020.
Slated to reach US$164,000m by 2024, the food ordering industry is growing by a healthy CAGR of 7.5%. In India, online food ordering is a growing market. The penetration of the internet in India has increased by leaps and bounds, fueling a rise in the usage of apps in nearly every sector.
This shows specifically in the food ordering sector as India is ranked third worldwide in terms of revenue. With revenues expected to touch US$ 10,000m by the end of 2024, online food ordering in India is showing no signs of slowing down.
Why do businesses need to adopt technology?
In today's digital age, brick and mortar stores rely on the internet for marketing and promotion. Gone are the days when your restaurant could reach a large audience just by word of mouth or through traditional mass media like newspapers, magazines, radio, and TV. Today, social media campaigns, advertisements on popular food ordering platforms, and shares by popular influencers rule the roost.
For a business that has not invested in technology the market is extremely limited, and in many cases, non-existent. Adopting a technology platform helps restaurants and businesses reach a much wider audience, offer specials and a wider variety than what is possible in a restaurant, and focus on their core competence – making food. 
The benefits of  adopting technology 
1.  Reach
Of all the benefits that one may list for investing in technology, the primary benefit would be reached. Every restaurant wishes to maximize reach. Many patrons might want to discount a restaurant from their list because it is simply too far for them. Others might think that getting a reservation is just not their cup of tea.
No matter what the reason is, every customer that removes a restaurant from their go-to-list is a loss in revenue. This is where a food ordering platform comes in – they ensure that you can search from an ever-widening variety of food from multiple restaurants and read reviews before you order them. They also ensure that food reaches your doorstep when you want it to. This factor of reach, which is directly connected to the matter of convenience is a major reason to invest in technology.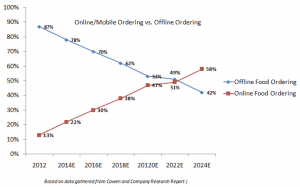 2.  Core Competence
Every business has a core competence. For a restaurant, it is making food. They might not be good at delivery or maximizing reach. This is where an ordering platform comes in.
From finding riders to deliver food to sponsoring restaurant posts to offer specials and freebies, and ordering platform can ensure that the restaurant focuses on making food while the platform focuses on processing orders and delivery. Platforms like Zomato, Swiggy and many more have made their mark by offering a world-class ordering experience and in-time delivery in the comfort of your own home.
3.  Convenience
Convenience is the single most important reason people order food online. This is also the reason a delivery platform makes so much sense today. Offering world-class service to both customers and restaurants is what everyone needs. Restaurants need a fuss-free ordering and payment experience, and customers want food when they order it. It's ridiculously simple!

How can technology help?
The primary role of food ordering technology is to remove the hurdles a consumer and a restaurant face in interacting with each other. As platforms offer newer ways to enhance their services, people use them and in time, get hooked to them because they offer what the customers need. Technology everyone in this business model:
Helps restaurants accept and process orders and receive timely payments

Helps riders earn money by delivering orders

Helps customers get food in time and pay according to their convenience

Helps aggregators make a cut and continue to offer services
 In short, everyone benefits from using technology in this business model. With a new idea, great implementation and good service, there is nothing that can stop a platform from growing by leaps and bounds.
India is a large, developing country. As the penetration of the internet and smartphones grows by the day, so does the number of users who download and install food ordering apps to order food due to an increase in their disposable income. A food ordering platform that offers new and enhanced services is something that first-time users will always look for.
How can Volumetree help you in this regard?
Volumetree has helped many businesses bring an idea to life. From the seed of the idea to fruition when the service is launched, they offer exceptional technical expertise, world-class customer service, and unmatched online ordering experience. They have helped many companies start their online food ordering systems or have enhanced their existing systems in many ways. Volumetree's teams have years of experience building food ordering platforms that can help you provide your customers with world-class user experience.
Give us a call or click here to contact us so we can help you jump the food ordering bandwagon and be the next big disruptor in this industry.