A new age has dawned. Gone are the days when we were faced with the choice of either starting a business or seeking employment and if we chose the latter, it would entail staying with the organization for a long time. The on-demand marketplace has generated a section of society amidst workers that oscillate between working full time for a company and self-employment. The sole reason for the existence of these strata of workers is due to the gap in understanding the difference between the services offered and what is desired.
Large companies charge a fortune for small jobs that might take fifteen minutes to accomplish. A simple quick-fix job like fixing a leak in the plumbing system may set you back by a hundred dollars or more if you use an established service. Although the inherent cost is low, their scale has caused the price to go up exponentially. These companies also function during regular hours, causing homeowners to be bound by the timings set by them. This gap in expectations vs. offers has effectively been fulfilled by the on-demand marketplace that is the most talked-about trend in the industry. 
The biggest reason for the success of the on-demand economy is its inherent capability to make everyone happy. Workers need to add financial stability, which they can accomplish by working as an on-demand worker during their time off. Their on-demand employers cater to those who are very busy during the workweek and have no time for themselves. This demand-supply based economy has filled a gap that earlier required a large paycheck to bridge.
With time being in short supply and the advent of the smartphone coupled with the internet, the largest piece of the on-demand home services pie has been served to the current generation. More and more millennials acquire information and book services over the internet today. On-demand home services help bridge the gap between offline services and services available online, often acting as intermediaries that provide you services when you need them, efficiently.
What was formerly a luxury is a necessity today. From booking home cleaning services online to finding runners for their laundry to finding home tutors and nannies for children, millennials have outsourced nearly every aspect of their lives. High income and stress at work have contributed to this industry that has now become bigger than the businesses we currently are employed by.
Technology:
The current on-demand home service market is highly fragmented and fiercely competitive. The key to surviving in such a market is the uniqueness of a product and the value that it brings along with providing innovative solutions to problems. As the age group of customers that need these services is between 20 and 35. They are usually tech-savvy and switch apps faster than vendors can provide updates to them. The result of this need-based-market is that leading vendors offer a better user interface design than the competition.
Adaptability:
According to a report from Forbes, over 75% of the workforce will comprise of millennials that find it easier to use a smartphone rather than pliers. This suggests that staying abreast with cutting edge technology and innovative design is the only way to understand what their clients need and how to best serve and retain them.
Connectivity:
Staying in touch is important, but the medium is not. With the number of text messages sent in a day overshadowing the number of calls by the millions, it is only natural to assume that most customers would rather text a service provider than call them. App notifications are much more important than calling customers.
Reliability:
A reliable, cost-effective service is the key to success. With more and more people deciding by reading reviews online, positive reviews by actual customers go a long way in ensuring a steady customer base.
Some statistics to consider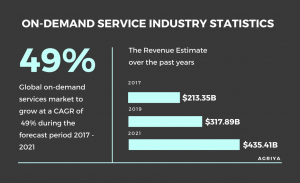 Consider a market that has been posting a compounded annual growth rate (CAGR) of nearly 30% which is expected to rise to around 49% by 2021. A $600 billion market in the US alone, the on-demand home services sector has grown by leaps and bounds, fuelled by our current lifestyle and is slated to reach 1.13 trillion by 2026.
According to data from Google, the number of searches for "local" and "near me" in 2019 went up 350 times when compared to the volume in 2010. In the same report regarding home services trends, the most mobile searches for "near me" were for HVAC repair,
landscaping, plumbers and roofing. In another report by Comscore, 78% of the local searches for home services on a mobile phone lead to a purchase within 24 hours of performing the search.
As the purchase intent of these searchers is very high, an aggregation platform or an app is extremely valuable in these scenarios. Taking into account the unanswered call rates for these individual providers, about 18% of home service calls are not answered. On the weekends, this number rises to over 41%! This means that every weekend, 41% of potential customers are lost just because the provider is busy and does not have access to a mobile phone.
The home services market in the Middle East
In the Middle East, the size of the home services market is around USD 20-30bn annually, and less than 1% of these services are found and booked online. This indicates a very low penetration of online home services apps and services and showcases that the market is ripe for the taking.
The home services market in Canada
With a majority of the population spending heavily on renovation since 2011, nearly 82% of Canadian residents purchase on-demand services. In another study, the on-demand labour market is flourishing at an annual rate of over 18.5. This is in conjunction with online mobile-driven home care service spending increasing to nearly $60 billion. With a large number of fragmented vendors, the on-demand online home services market in Canada is waiting for the next big disruptive aggregator platform to integrate these services.
The Home services market in Sweden
With their tax breaks policy on repairs, the Swedish home services and repair market is growing rapidly. On average, Swedes spent approximately 1500 euros per annum on home repairs. As Sweden gears up to cut emissions as much as possible and a push towards the maker movement and the sharing economy.
The Swedish market is ready for the next big disruptor in the home services market. With a proud history of DIY and recent tax incentives, there has been a literal explosion in the number of household service providers like TaskRabbit which offers services in conjunction with Ikea and many others.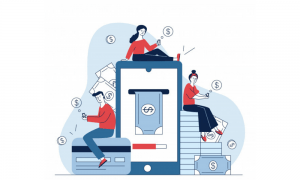 How much does it cost to create an on-demand home services app?
Developing an on-demand home services app, with limited functionality can cost as low as $3000. If you wish to add functionalities like AI, tracking, scheduling, refunds and cancellations and more, the cost can easily escalate. However, as apps may greatly vary in their cost according to complexity, it is best to list out the top features your app needs to best figure out the cost of the app.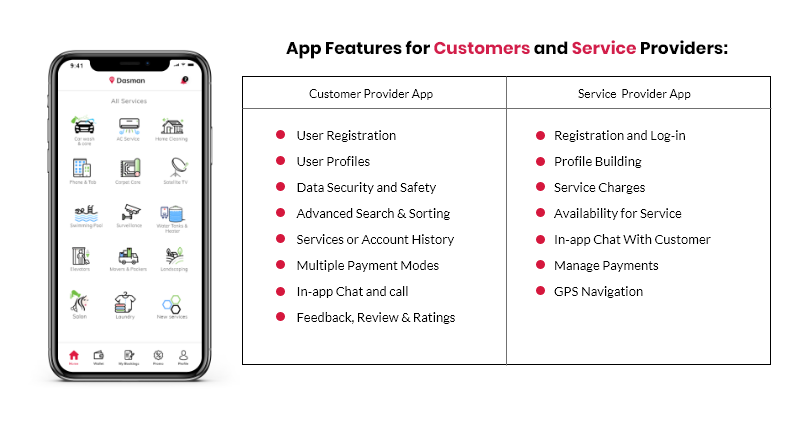 Here are some of the most important features of an on-demand home services app:
1. Security
With the world focusing more and more on privacy, security and data theft, it is of the utmost importance that your app is trustworthy. The payment gateway should be well-known and secure.
2. Notifications
Our lives are busier than ever, and it is extremely easy to lose track of what we had planned for in a day. With smart notifications and reminders, your users can easily keep track of their home service schedules.
3. Tracking
It is important to feel reassured about where your service provider is. With GPS-enabled tracking, you can now find out where your service provider is in real-time.
4. Multiple payment options and refunds
As users may use multiple payment options, ensuring that your app accepts all popular methods of payment like credit or debit cards, cash, e-wallets and bank transfers ensures that the customer can pay with the mode that is most convenient for them. Seamless refunds allow users to get a refund if a service is not available or cancelled.
5. Easy-to-use interface
The end-user is the ultimate tester of your application. If you understand your user base well, you will be able to create an app that suits their requirements. Remember, users will stick to apps that are easy to use and not too complex.
6. Customer service
Even the best service in the world is incomplete without quality customer service. Your users should ideally be able to chat, call or email customer service about questions, comments or problems with the service that they have received.
7. Ratings and reviews
Your customer needs to be able to add reviews for the service they receive. Reviews make the services available on your app more reliable for other users as they can refer to the reviews of previous customers.
8. Recent searches and smart suggestions
Recent search activity can be easily leveraged by the app and empowered by AI and ML to provide more meaningful and relevant results to your customers.
9. Adding a Wishlist
Wishlists are important as customers might want to create a set of services they need at a later stage. Wishlists also let customers sign up for limited-duration services that have lapsed but can be brought back on popular demand.
10. Past orders and account management
Having an account allows users to view their service history. This also lets them check how much they have spent on a particular service last time and try to find a better deal this time over.
The scope of the on-demand industry is immense. Studies prove that as our lives get busier and even more competitive in the workplace, we will need on-demand services that help us find time during our days off. This customer-focused industry is only slated for growth in the near future, as long as your ideas are innovative and your service dependable.