The world is a better connected, mobile place today thanks to connected handheld devices like mobile phones and tablets. With over 60% of the world population owning a mobile phone, it is safe to assume that you might be reading this blog on a mobile device. With their relatively low entry cost and with data prices plummeting, mobiles seem to be the way to go as far as connectivity is concerned.
Mobile apps are a new rage today. With over 50% of the electronic business transactions around the world being done on mobile devices, mobile apps have created a place for themselves in today's world. Businesses today understand that a mobile app is now a must-have instead of a nice-to-have feature in their electronic arsenal.
As mobile devices outnumber PCs three to one, apps dominate the software space today. From previously PC-only apps like Microsoft Word to graphic editing tools like Photoshop, nearly every application around the world now has a mobile app that works on pretty much any device it is thrown at.
Users have also shown a preference for apps when compared to mobile-friendly websites. As apps provide a native, seamless way to work that gels with the device that they are using, their user experience cannot be beaten by mobile-optimized responsive websites that are just tweaked to look similar on handhelds.
As mobile apps are designed from the ground up to provide first-class, native user experience, they offer users much more than what websites can. Most apps we download today are free, with some exceptions being paid. Some free apps also have in-app purchases that offer additional functionality at a cost.
We often encounter this question during our discussions – How much does it really cost to create a mobile app? Although we are expected to churn out a ballpark figure almost immediately, the answer is not as simple.
So, what does it really cost to create a mobile app? Let's find out.
Creating a mobile app is not easy. It may seem easy at the outset, but it has many factors that impact the cost of an app itself. Costs to create an app range from a few hundred dollars to a million or more in the case of complex gaming apps! Most app development companies charge by the hour and creating an app can take several hundred hours.
Some of these factors are listed below. Please understand that this is not a complete list in any way, but will give you an idea of what to expect when you start discussing costings with your potential investors or clients.
Before we get into the nitty-gritty, a little background about what a mobile app really is.
A mobile app is a software that is designed to run on a handheld device, like a mobile phone or a tablet. These apps can be of varied types and complexities but can be divided into three major categories
Web Apps
A Web App is one of most common categories of apps available today. This is essentially a mobile-friendly version of your website so that your users can get a near-seamless rendition of your website regardless of the device that they are using. These apps, however, are not native to the platform that you are viewing it on and may not provide a seamless interface that native apps do.
Platform Specific or Native Apps
Native apps are software applications created specifically for the platform or the mobile operating system they are designed to run on. Popular examples are iOS apps and Android apps. These apps are the fastest of the three and provide a seamless user experience.
Hybrid Apps
A hybrid app combines native and web applications. Hybrid apps ensure that you can deploy the same app on multiple platforms, reducing development time for new features and bug fixes. These apps are faster to develop but can never be as fast as a native app due to the reason that they run on a browser. They can only be fast as the browser that they are running on.
Why does your business need an app?

This question should ideally be rephrased and titled "Why would your business not need an app?" In the mobile age, users spend nearly 3 hours of their life each day on their mobile phones. What better way could there be to tap into this user base than an app? An app gives you infinite opportunities. You can offer discounts, run promo campaigns, provide information that leads to offers, provide customer support and so on. The possibilities are endless.
Increased customer loyalty:
Apps ensure that customer relationships are bettered and loyalty is enhanced amongst users. They also reduce an extra step where the user remembers your product's URL and then types that into a browser to get there and gets a second rate experience that is dependent on the browser.
Enhanced brand recognition:
Your company logo and your brand's visibility can be enhanced by apps. In the case of a website, your brand's visibility is limited to what your customers can see post-log-in. With a mobile app, your logo sits on your phone, visible at all times. As users can easily be sent notifications and offer through the app, you have enhanced customer engagement and brand recognition.
A great sales channel:
Apps have the capability of including functionalities that may include a sales portal and a description area rolled into one app. This can ensure that not only will your customers be able to see your products, but they will also be able to buy it at the outset!
The ingredients of an app! What really goes into making a great mobile app?
Time
The most important part about any application is the amount of time that will be spent while creating it. With enough time on hand, an app can be planned better, developed and tested thoroughly so that your users have a world-class experience.
The average development time for a basic app is around 300 hours for iOS. As Android apps are slightly more complex, they can take up to 20% extra time to develop.
Teams
A good development team is important for a successful app. Here is a breakdown of the various experts you need to ensure that you build a world-class app:
Basic Apps: For basic apps, the team size might not be too large, but ensure that your team consists of a Project Manager, Developers, UI/UX Designers and Quality Assurance engineers.
Large Apps: For apps that are feature-laden and have a lot of functionality, you will need additional developers for each platform, designers, administrators, and a back-end developer.
Elements
The elements that drive the cost of an app may vary from one app to the other, however, there are some common factors that affect the final cost of each app:
1. Complexity
The complexity of an app can be due to many reasons. Some of these include:
Third-party integrations require interacting with libraries, frameworks, services and other apps. This might include payment services, login frameworks for social media logins, social media sharing APIs and chats.
In-app purchases are functionality that many apps require. As these are pretty complex to implement, they can add significantly to costs depending on the functionality required.
Interaction with hardware and sensors
Modern mobile phones are loaded with sensors like gyroscopes, GPS, barometers, etc. As these components might be made by many different manufacturers, ensuring that your app works well with the maximum number of providers can also drive up costs.
Many fully-featured apps require to manage access levels, operate apps, view dashboards and many, many more. Although flexible admin interfaces exist, the best way is to build a custom interface, though that can drive up costs significantly.
2. Compatibility
The versions of operating platforms and the type of phone your target user base might have may vary greatly. To ensure that your app performs well with most platforms, you will need to ensure that your app adapts well to varied screen sizes, resolutions, device and operating system specifications and more.
This increases design, development and test times for each app. Many platforms also enforce that apps must be backward-compatible with at least two or three versions of their operating systems. For example, the Apple app store mandates that an app must be compatible with all current and one previous generation of their phones and iOS.
This means that at any given point of time, you would need to ensure that your app works on nearly 8 different devices and two operating systems with various permutations and combinations. A similar mandate is also for Android apps.
3. User Interface Design
As operating systems and phone versions vary, so do the number of UI/UX components that your app needs to encompass. OS upgrades can completely change the user experience for a user and if your app does not conform to those guidelines, you might be left with an app that looks either dated or out of place. Ensuring that everything looks seamless, custom design and animation solution is best, but it drives costs significantly.
4. Maintenance
As with any software, mobile apps also require constant marketing, customer communication, updates, maintenance, hosting, server maintenance, customer support, legal support and much more. Costs for this can be significant. This is in addition to your app development costs.
5. Legalities
Legalities like intellectual property protection, copyrights, patents, and trademarks cost legal fees. These can significantly drive up costs, but ensure that you retain and own the app and the idea that you envisioned. Copyrights protect the text and visuals of your app, Patents protect the idea and Trademarks protect your business name.
Average app development times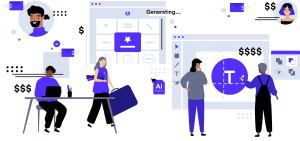 Basic apps that do not require much integration or third party APIs and have standard components, can take up to 600 hours to develop. Examples may include weight trackers, calculators, book databases, etc.
Apps that have custom UIs, contain payment systems, integrate with some third-party APIs and require simple backend server configuration can take up to 800 hours to develop. Examples may include simple scheduling apps, ticketing apps.
Complex apps that require lots of audio/video processing, animations, third party configurations, several database connectivity options, gaming options, in-app purchases can take up to 1000+ hours to develop. This may include apps like the Amazon store app, Facebook, and other video streaming apps like Vimeo.
Development costs for an MVP
Development costs may vary according to the route you choose. A ballpark figure for an MVP would be somewhere around $15,000 to $60,000, depending on what methodology you choose. Many companies might wish to hire an in-house team for their apps. Others might wish to hire freelancers and some might wish to contact an agency. No matter what the choice, some factors remain the same. If, for example, we take statistics into account for an MVP that costs somewhere around $40,000, it will have the following cost percentages involved:
Planning an app can take around 10% of your total development cost. The better planned an app is, the less time you will spend re-engineering an unplanned app.
User Experience Design costs time and therefore money. With over 15% of the total development cost, the design is a large overhead but will determine your app's "love at first sight" ratio. Whether users decide to keep their app or move on will depend on its User Experience.
Most users might move on from an app if it is not feature-laden. With another 15% of your app development cost going into it, feature-laden apps are a hit with users.
Backend and infrastructure
Many apps are plagued with poor backend infrastructure and mediocre hosting providers that might kill the actual app. Infrastructure essentially costs about 30% of the total development cost. This cost is recurring.
Administrative features in an app and functionality to administer apps can cost nearly 10% of your app cost. As these features are expensive, but heavily used, it is important to not skimp on this cost.
A poorly tested app will lose users faster than it gains them. To ensure that users stick, put at least 15% of your budget for testing to ensure that you have a reasonably bug-free user experience.
Deployment of an app might seem like a one-time or a small annual recurring fee, but ensuring that the app meets store guidelines can dig into about 5% of your total app budget.
Post-development expenses
So you have successfully developed an app! Huzzah! This is however not the end of the game. For many companies developing an MVP, the process has just begun. Marketing and tech support should be a part of your app development budget, and that too a major one.
Most apps die out as developers either were not able to market them well or were not able to offer support. If you are creating a large, feature-laden app, it is imperative that you offer top-notch customer support that helps your customers in the time of need.
Marketing
With millions of apps out there, how do users find out which one to download? Here is where marketing comes in. Marketing expenses are high and inevitable. Unless you want your app to be found by accident and become viral due to a user spreading the world, the chances for that are next to none.
Quality and consistent marketing are important for your mobile app to be visible, stay at the top of the download charts and have reduced user churn. Marketing on social media paid advertising and another form of advertisings like review sites etc can also be effective. Marketing costs can easily be an additional 30% overhead on your development cost.
Technical Support and Administration
If your app is feature-laden, it is only a matter of time before users get stuck and do not know where to go from there. This calls for a support team that can help users out in the time of need. Administrative costs include managing profiles, APIs, data, creating reports, monitoring usage, server administration and much more. All of these activities combined can be a recurring expenditure of about 15% of the cost of your app.
Is it worth it?
With all this cost of expenses, you might begin to wonder if it is even worth having an app in the first place. The answer is – you will need to take the plunge to find out. Getting a hard dollar value is difficult, but counting the potential revenue from that app is even more so.
Finding the right development partner is important, as you will get a real idea of what your app will cost and how can you get it funded. Companies like Volumetree have several partners that can help you at every stage of your entrepreneurial journey.
From nurturing your idea through ideation to development to deployment and arranging investor interests, Volumetree offers a full-fledged suite of services to serve every individual or company's needs.
Contact us today to get a real-world breakup of what your app will cost and how can you fund your idea into an app.