Has your food delivery business suffered during the lockdown? Have you been struggling to get orders for delivery and are looking at retrenching staff to make ends meet? Then you're in the right place!
Food delivery is a lucrative business—until there is demand and orders are flowing in. In conditions like the lockdown, most of your walk-in clients or those who called you for orders must have gone home or would be in isolation and new customers would be hard to come by. With many people even shunning newspapers, how can a traditional business model like food delivery thrive?
How do I make it through the quarantine?
The answer is through mobile apps! As more and more people use mobile phones to place orders, find restaurants or delivery services and do just about anything, it is the most natural progression that your business could do to adapt to these times.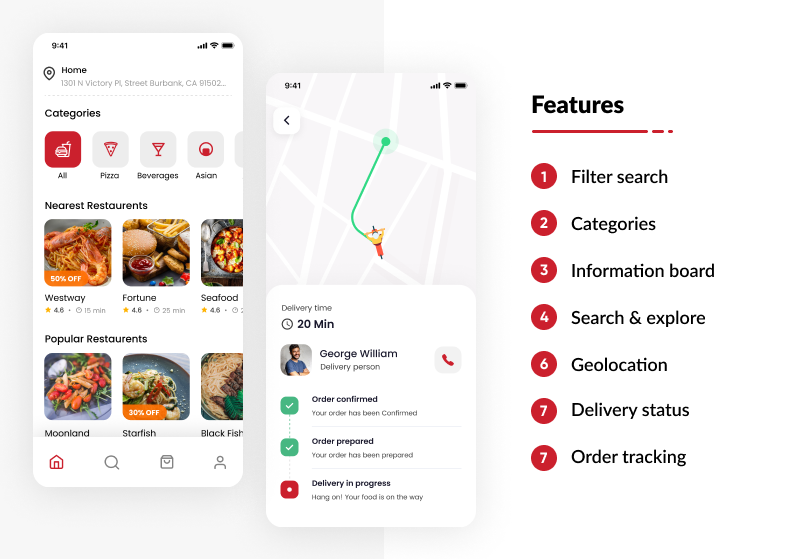 How will I ensure that my food ordering app has all the features that I need?
However, with dozens of apps already making their mark, how can you make it through? The answer is through our solution. Our outstanding new food ordering app helps you get a Zomato type app or other competing products, at a fraction of the cost. Our app will have all the new COVID-19 features that you need to stay relevant and in focus. 
Will the app ensure that I get orders?
Absolutely. If you have a restaurant or if you are a delivery aggregator, all you need to do is get restaurants on board and start getting orders! Our app has all the cool features you need to entice other restaurants to join in, and all the facilities to offer a world-class delivery experience to your customers.
Will the app be easy to use?
Of course. With separate, role-based apps for riders, customers, restaurants and staff, our platform will ensure that you get a world-class user interface and features that you and your customers will love!
Won't it take time to make an app?
With our team and our world-class facility, you will have your Zomato type app ready in one week! That's right, in just 7 days you will have your app ready to rock the food ordering world!
What is so special about your platform?
Our platform is smart inside out. Our AI-ready turnkey solution offers you more than enough bang for the buck. With contactless deliveries, restaurant management, dispatch, configurations, analytics, AI-driven recommendations—our app has it all! 

What about my brand name?
Our app can be customized and white-labeled to wear your brand's colours. With tailored-in brand communication and your logo, your app will look and feel like your own business.
Will I be able to take payments online?
Absolutely! With built-in payment systems and options to add/remove modules as per your choice, you can offer all the payment systems you wish to support. Contact us for payment gateway integration costs.
Will I be able to offer support?
Yes! What's a solution without support? You will be able to respond to your customers within the app itself! With optional chat features and many other options to contact your customers, you can rest assured that this is the best solution you can get today.
What all will I get?
You will get it all! A world-class suite of rider, customer and restaurant apps along with a web-based admin dashboard that is customizable and offers a world-class experience.
Will you help me get my app submitted to the app store?
Yes, we will. Our app submission service will help you get your app submitted to the app store. Contact us for more details.
How much will this cost me?
We have special pricing during the pandemic. Check our website here for the most updated special offers, updates and early-bird pricings today!
Why should I get this app from Volumetree?
In a world full of options, some stand out. With years of experience, presence across 3 continents, dozens of very satisfied clients and our large 50+ member team, we can handle large projects and small with ease. As we already have many satisfied customers using our platform without issues, you can rest assured that we are the right partners for your new digital presence.
In today's market, it is best to get an early-bird advantage so that your business can get all the visibility and traction it needs during the quarantine. Once shops open, there will be a deluge of customers and with your app being already out there, you are set for success. So don't wait! Get your app and start getting restaurants on board today! Send an email to contact@volumetree.com and our expert consultants will help you get up and running with an app like Zomato, fast! Stay Safe!